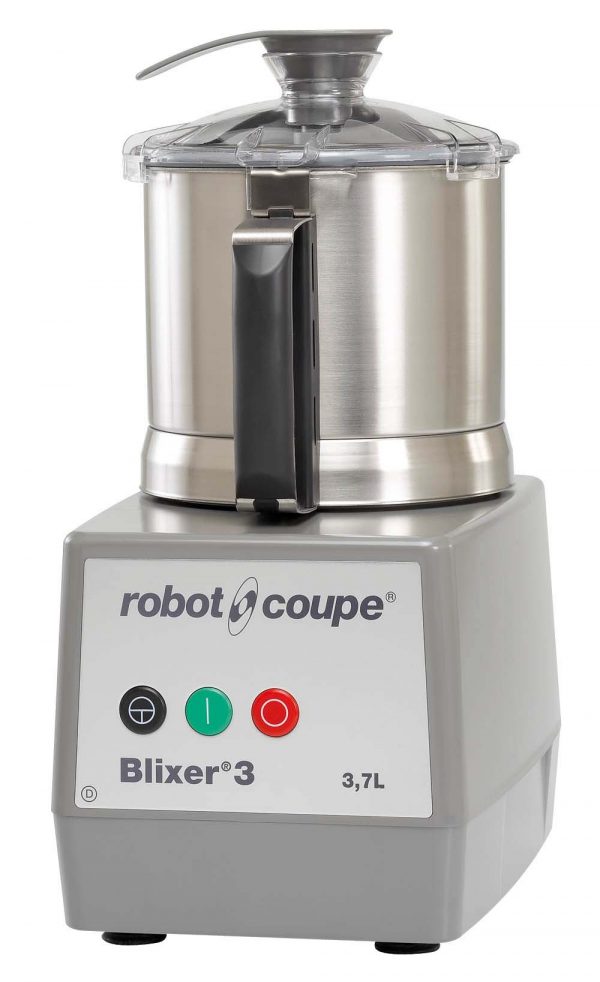 BLIXER®
THE FUNCTIONS OF A CUTTER + A BLENDER IN 1 MACHINE
• Since 1991, Robot-Coupe has always been improving the Blixers® concept in close partnership with healthcare and catering specialists, in order to process food for people who have problems to chew and swallow. • With a Blixer®, preparing healthy, well balanced and tasty food is simplicity itself, due to it's ability to blend raw ingredients. • Robot-Coupe Blixers® allow you to make any starter,main dish or dessert you choose with a modified texture for the health sector. • Handy polycarbonate lid equipped with a watertight seal and with a bowl and lid scraper. • All parts that are in food contact can be easily removed for cleaning. • With a specific blade to process batches from 300gr to 2 kg, the Blixer® has incredible small portion control • High liquid capacity bowl.
FEATURES
• Stainless steel motor shaft • Pulse function • Induction motor • Magnetic safety system and motor brake • High liquid capacity bowl (2 litres) • Sealed lid • Bowl and lid scraper made in two parts easy to dismantle and to clean.
Blixer® is the essential tool for the trendy cuisine in gourmet bistros, top level restaurants, caterers, banquets and for health care facilities.
SPECIFICATIONS – BLX0003
POWER: 750W – SINGLE PHASE – 250V – 50Hz SINGLE SPEED: 3000rpm – PULSE FUNCTION DIMENSIONS: 420 x 210 x 330mm DELIVERED WITH: STAINLESS STEEL 3.7 LITRE CAPACITY BOWL WITH ERGONOMIC HANDLE AND FINE SERRATED BLADE
ORDER CODE:
BLX0003 • BLIXER 3 – ROBOT COUPE (MIXER / BLENDER)