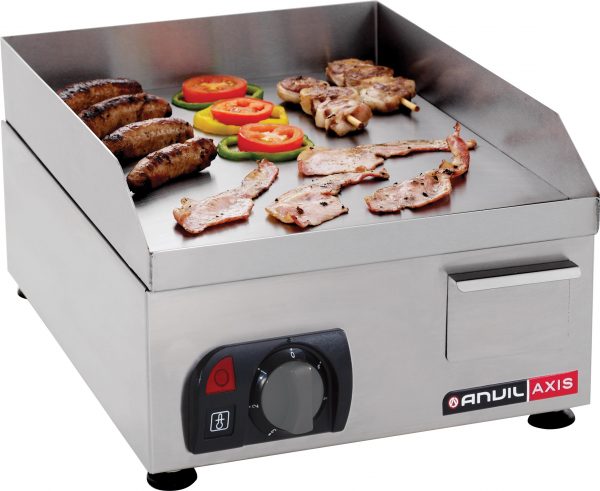 FLAT TOP GRILLERS – ELECTRIC- 400mm
CONSTRUCTION
• Heavy duty 10mm cooking plate for high heat retention • Grease trough drains into bottom mounted grease collection pan • Splashback prevents undue grease spattering
HEATING
Rapidly heats up to optimum cooking temperature Flat top griller thermostatically controlled up to a max of 300°C Egg Griller thermostatically controlled up to max of 180°C Element design ensures even heating over entire cooking surface
The egg and bacon griller is ideal for breakfasts. Use either the egg griller (D) for frying eggs in oil bath or use the combination (E) to fry eggs on one side, sausages, bacon and tomatoes on the other side.
Buy the half flat / half ribbed griddle to give you versatility, use the flat half for bacon and eggs and the ribbed side to give burgers and steaks the authentic grill house look. 10mm mild steel griddle plates.
SPECIFICATIONS – FTA0400
POWER: 2kW
VOLTAGE: 230V
GRILL AREA: 355 x 420mm
DIMENSIONS: 373 x 532 x 241mm
WEIGHT: 20kg
ORDER CODES:
FTA0400 A FLAT TOP GRILL ANVIL – 400mm (ELEC)